Facts and Figures
Student Body
The School of St Yared was launched in September 2009 with 56 students.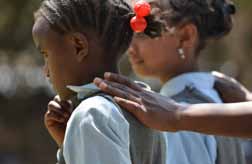 Since that time, a single class of approximately 20 students has been added each year. 218 students were enrolled in the school for the 2017/2018 academic year.
St Yared's will embark on a process of expansion in the years ahead, ultimately providing education to some 1000 students by 2022, with double- or triple-stream enrolment from Kindergarten through to Year 12.
Academically, students from St Yared's consistently outperform all other local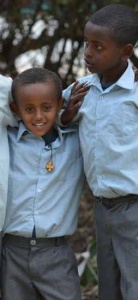 schools in cluster testing.
In the most recent government testing cycle, St Yared's students scored an average 88%, versus the local average of 67%.
Communities Served
Students of St Yared's are drawn from Yeka and Gulele sub-cities, amongst the poorest regions of Addis Ababa, with a total population of some 850,000.
The primary forms of employment are carrying and selling firewood, and other forms of manual labour, for which average daily earnings are between AUD 1 and 2.
Prior to St Yared's, there was no free school in the area and only three kindergartens, two of which were private and prohibitively expensive for much of the area's population.
Selection Process
St Yared's adheres to a strict policy of accepting no more than one child per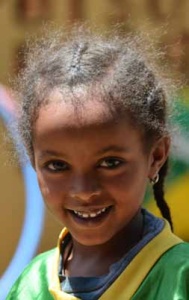 family. This is intended to maximize benefits across the community, and also serves as an incentive for informal learning within families and neighbourhoods.
Throughout the process, local representatives from the Department of Women, Children and Youth, the Education Bureau, and the Health Bureau, as well as community leaders and representatives from the school's parent committee, are involved in the selection of new students.
Curriculum
Students learn English from the beginning of their study at St Yared's.
A sequenced and resourced mathematics program, taught in both English and Amharic, runs throughout the primary school curriculum.
The ongoing phase-in of the International Primary Curriculum will complement the school's existing pedagogical focus on critical thinking and problem-solving, specifically in the science-based areas.
Art, physical education and electives, as well as a targeted reading program, add value and variety to the curriculum.
Basic Needs
Students are served three healthy meals each school day – breakfast, lunch, and a recess snack.
They are also provided with all educational materials, a school bag, and a school uniform that includes shoes and sports clothes.
The recruitment of a dedicated Health Officer from September 2014 has enhanced St Yared's ability to monitor and support students and families in the areas of general health and wellbeing, as well as providing targeted assistance to families with specific health needs.
Staff
As of June 2018, St Yared's currently operates with 28 teaching staff and 28 support staff, including cooks, cleaners, maintenance staff, office administrators, and the school bus driver.
Professional development for the teaching faculty includes onsite training in curriculum planning and development, as well as English proficiency classes in specific educational areas.
Additionally, almost all of the teachers complement their skills with relevant post-graduate study after school.
Many support staff also attend night school in order to complete their secondary education requirements.
Help create a better future for the children and communities in Addis Ababa
by joining our St Yared's community.
Make a donation or sponsor a child today